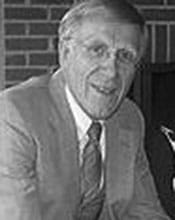 Richard Anderson, Ph.D.
Visiting Scientist
USDA Agricultural Research Service
Beltsville Human Nutrition Research Center
Beltsville, MD
Dr. Richard Anderson is currently a visiting scientist at the Beltsville Human Nutrition Research Center working on the role of natural products to improve the function of insulin. He received his Ph.D. in Biochemistry from Iowa State University and postdoctoral training at Harvard Medical School. He is a recognized expert in the nutritional and biochemical roles of chromium in human and animal nutrition. He is also conducting studies to determine the role and mechanism of action of polyphenols, with emphasis on those from cinnamon, on insulin sensitivity, the metabolic syndrome and neurobiology. Dr. Anderson has published more than 230 scientific manuscripts and has presented more than 200 presentations at national and international meetings throughout the world.